Locals Wash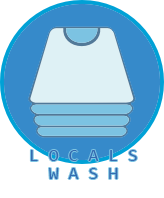 The Locals Wash is our gold-standard premium fluff and fold service.  We use high efficiency liquid detergent, liquid softener, and fabric dryer sheet for that perfect soft laundry feel and fresh clean clothes scent.
Locals Free & Clear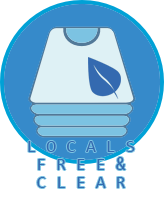 The Locals Free & Clear is our premium fluff and fold service featuring hypo-allergenic products.  We use high efficiency free and clear liquid detergent, free and clear softener, and free and clear dryers sheets.  Your clothes will be clean and free of all perfumes and dyes for that sensitive feel.
All Services Include:
Your Local laundry-pro can customize your service to your needs, just ask if you have any special requests.  Our expert Wash & Fold team has over 50 years of laundry experience and will treat you like a VIP every time.  You are not just an order number at Laundry Locals, our staff makes an effort know most of our customers by name their individual wash and fold requests.
Our Wash, Dry & Fold Service Includes:
Pockets are checked for extras; items returned in small bag.
Clothing is inspected and pre-treated for stains.
Any delicate items are wash separately.
Garments are turned right side out and socks pulled straight.
Garments are separated by color.
Clothes are fluffed before put into dryer to minimize wrinkles.
Each load is checked for complete dryness.
Items are immediately removed from dryer to avoid wrinkles.
Items are meticulously folded.
Socks are matched and folded in pairs.
Like Garments are folded, sorted and stacked for easy storage.
Clothes are packed to prevent wrinkling.
Next Day Wash & Fold
Locals Wash or Locals Free & Clear
$1.50/lb.
Same Day Wash & Fold
Locals Wash or Locals Free & Clear
$1.75/lb.
Regular Comforter
Twin or Full Size
$15
Regular Comforter
Queen or King Size
$20
Down Comforter
Twin or Full Size
$20
Down Comforter
Queen or King Size
$25
Bath Mats
Heavy or with Rubber Bottom
$6